10 Trending No-code Apps for Business
Nowadays, we are witnessing a tremendous increase in startups and new entrepreneurial ventures, more than in any other era. From giant companies to single entrepreneurs, you can't stay away from representing your business online. That requires programming language skills to launch websites, build or automate workflows, and create apps. Luckily, you don't need to pay a large sum to a team of skilled professionals or spend several years learning software engineering. There is another simple way: no-code apps –  software solutions that enable users to build digital products (webpages, mobile apps, etc.) or automate a function of their business process by utilizing easy drag-and-drop and pick-and-select functionality.
No-code apps have many benefits for companies and individuals, such as:
Fast and easy to use;
No programming language skills needed for implementation;
Affordability – cheaper than hiring a team of professional programmers;
Flexibility – easy to update and customize as per your business requirements;
Automation of essential work aspects like website building, sales & marketing, lead generation, form building, etc.;
Time saving.
Today there are hundreds of no-code apps in the digital market, and sometimes you don't even know where to look first. To make your work easier, we asked our users in our community what no-code apps they use for their business every day. Based on their feedback, we have compiled a list of the 10 best no-code apps. Find out more in our article.
Boei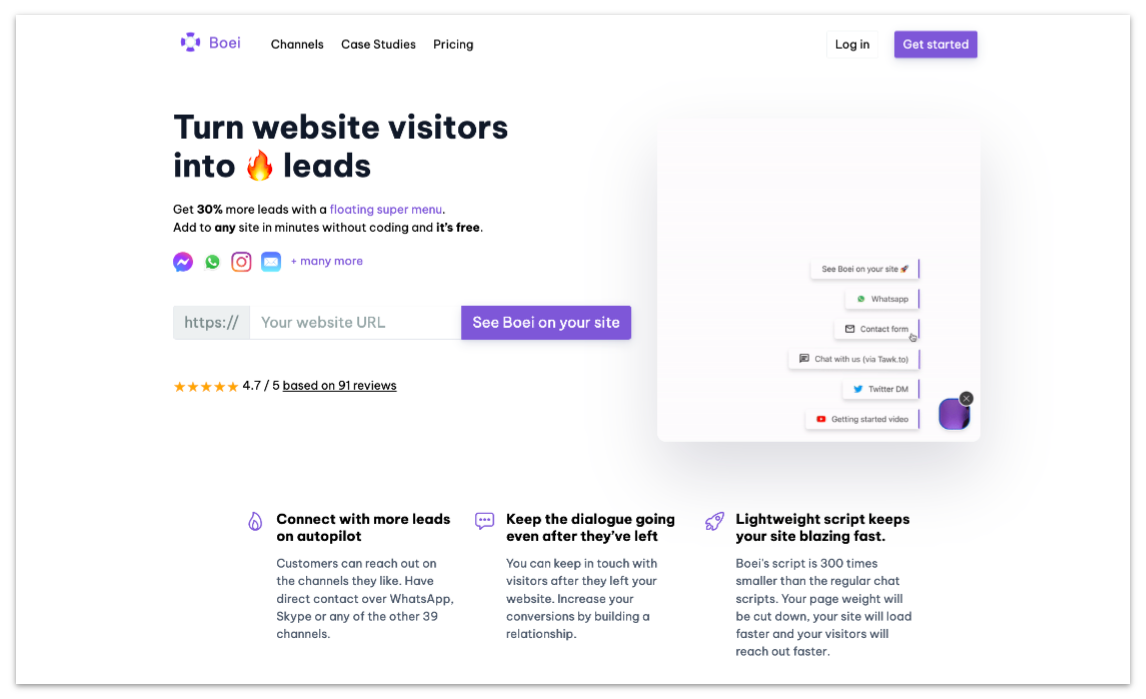 For its frequent updates and new features, Boei keeps receiving top marks from customers. This no-code app is a customer engagement software that allows visitors to your webpage to connect with you via their preferred communication channel, instead of a live chat.
Most companies don't provide support or business inquiries on Facebook Messenger, WhatsApp, or Twitter DMs to their potential customers, and this reduces lead conversion by 30%. Boei helps solve this gap by offering an option to place business inquiries and support services via a client's preferred social media platform, thereby increasing the number of leads.
Some of the benefits of Boei are:
It catches attention – Triggers a CTA button on your website, which reminds visitors to connect with you;
Built-in analytics data – Gives you insights about the clicks and interactions with your button;
Multiple languages – Every piece of text that your customer views can be translated into their preferred language;
Customized branding – Set your image, logo, color, etc. to your Boei button to match your brand;
Built-in forms – Engage with your visitors with a contact form, call me back form, feedback form, etc.
The Boei application does not use cookies or store personal data. The following integrations are supported by Boei: WhatsApp, Facebook Messenger, Telegram, Discord, Intercom chat, Crisp chat, Twitter, Google Maps, email, Skype, direct call, Instagram, Waze, and many more.
Parsio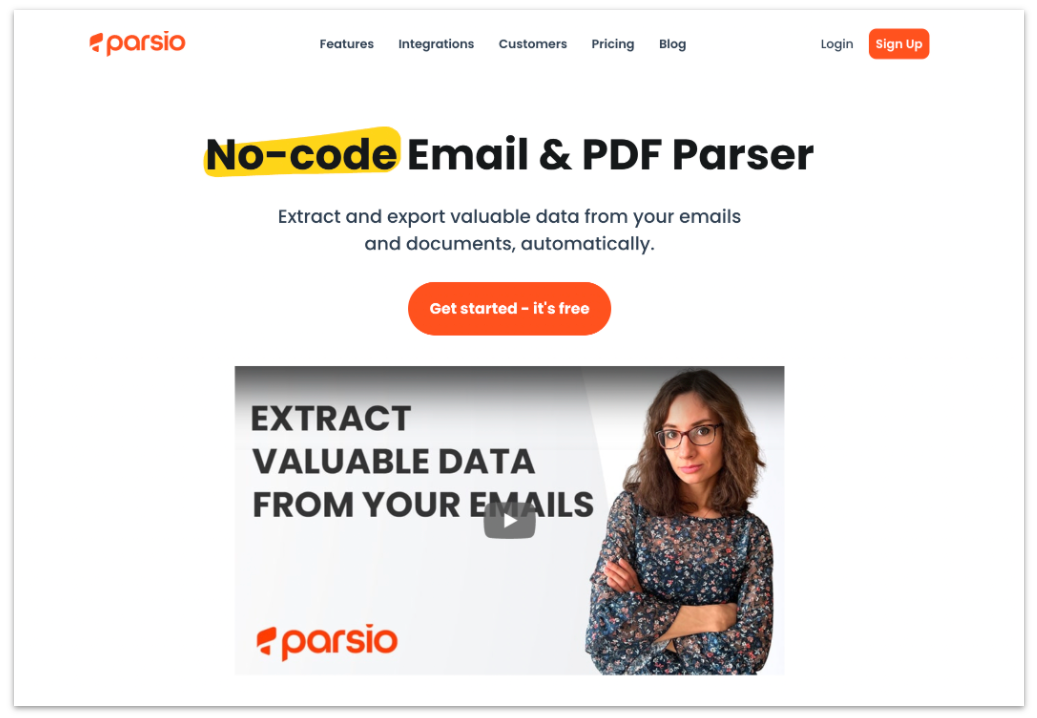 The next no-code app we are going to look into is Parsio. It has a very high user satisfaction level. Parsio is a parser software that extracts and exports data from your emails and documents automatically. It is a simple-to-use software, in which you highlight the data you want to extract and assign a field to it. After defining the parameters, the software will automatically process all similar incoming emails and attachments (such as PDF, HTML, XML, etc.)
The benefits of using Parsio are:
Minimizing employee costs – You do not need to hire a data entry staff member as that system is automated;
Efficiency – With a parser, your data is 100% accurate, while a data entry expert can make human error;
Faster processing time – Email or document parsing software keeps running in the background even when you are off work;
Ability to handle more workload – you and your employees can focus on the core of your business rather than data compilation;
Parsio offers integrations with over 4000+ apps such as Zapier, Pabbly Connect, Integrately, Integromat, Airtable, Freshdesk, and many more. You can download the parsed data directly into Excel, Google Sheets, or CSV, or send it via webhooks.
And it keeps evolving: now Parsio uses machine learning to automatically OCR and extract data from PDFs and images without even creating parsing templates. Parsio is now able to auto process documents like invoices, receipts, ID cards, visit cards and generic documents including handwritten text in different languages. The feature is already available as private beta and will be publicly available very soon, at the beginning of 2023.
SpreadSimple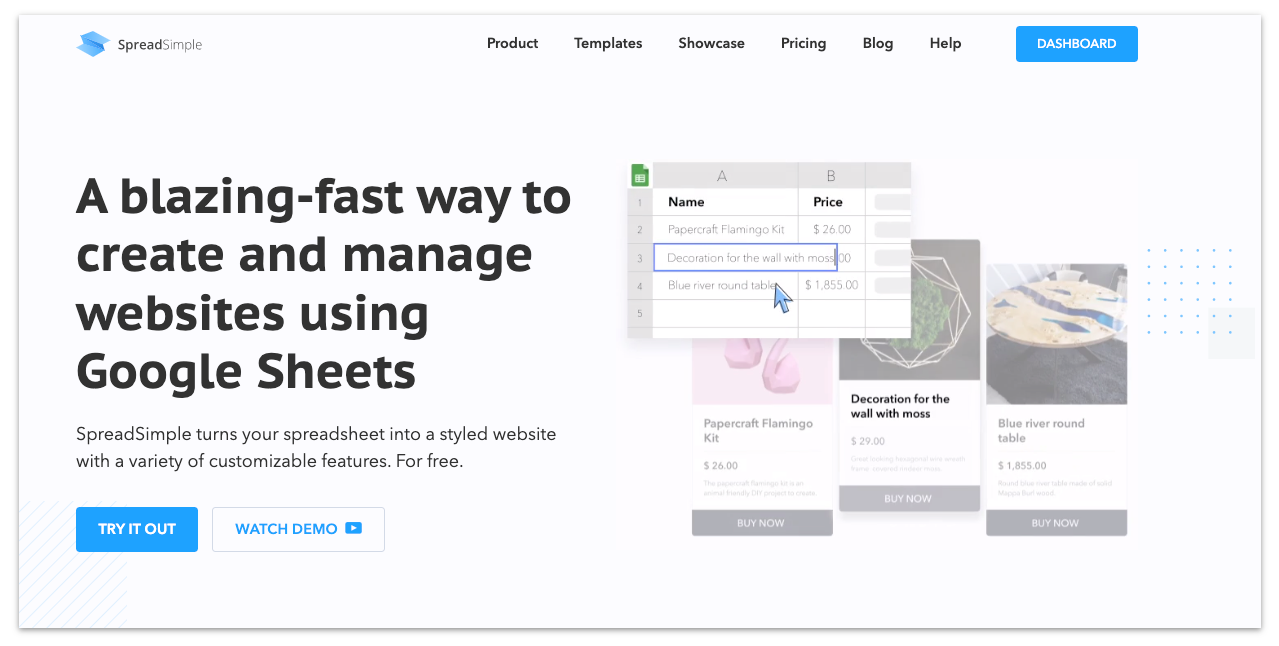 SpreadSimple is a no-code web application for building and managing feature-rich websites. As we already know, a webpage is the most integral part of any business, as it is your virtual shop and the first line of communication with your customers. When it comes to functionality, most people give credit to SpreadSimple for how easy and intuitive it is to use. It takes the data from your Google Sheets as your website's CMS (content management system) to create a styled webpage with a variety of customizable features such as:
Webpage design – Choose one of their templates designs or add your own colors, logo, and brand image in a few clicks;
Inventory, prices, and orders management from Google Sheets – Edit the information in your spreadsheet, and the website will update automatically;
Essential product page features – Add custom features such as search, sort, filter, pagination, etc. to your site;
SEO management – Connect analytical tools, and SEO details such as meta tags, favicons, preview images, custom scripts for chats, and more to your webpage.
SpreadSimple also integrates with popular programs and payment portals such as PayPal, Stripe, WhatsApp, Google Analytics, Facebook Pixel, Mailchimp, Zapier, and many more. Using SpreadSimple, you can create multiple websites: E-commerce, Affiliate stores, Restaurants and Cafes, Real Estate, Listings for advertising jobs, events, crafts, pictures, etc. There is also an option of test websites to try out integrations and experiments.
Publitio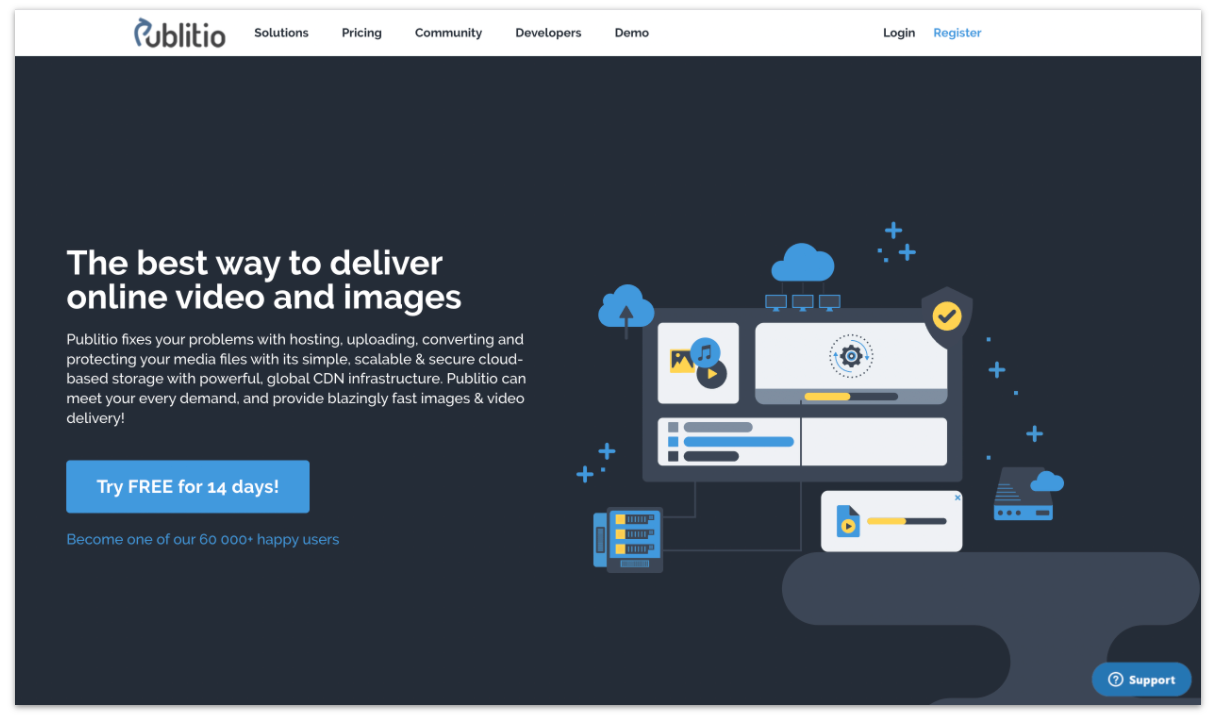 For a reliable yet affordable platform to host visual content, try Publitio. This no-code app is the best media management solution for small and medium businesses, websites, internet companies and mobile apps to deliver online images and videos. It is a platform that provides media asset management in the cloud, giving your company a safe and convenient way to host, upload, convert, and monetize your videos and images.
With Publitio, you can:
Build websites and apps without worrying about how much media you need for storage and upload;
Use Publitio's WordPress plugin to optimize the images on your website or blog and increase site speed;
Easily add an avenue for revenue for ads in your media, and also be in control of how often those ads will play;
Transform your videos on the fly with URL-based transformations such as resizing, cropping, watermarking, converting to different formats, etc;
Protect your files by preventing viewers from downloading your videos. You can make them private and playable only on your domain.
Publitio has many blogs and video tutorials to help their customers use the platform better. They offer a wide range of solutions to choose from as per your company requirements such as Media Asset Management, Image Management, Audio Management, WordPress Media Management and offloading, Video Management, and Digital Asset Management.
TexAu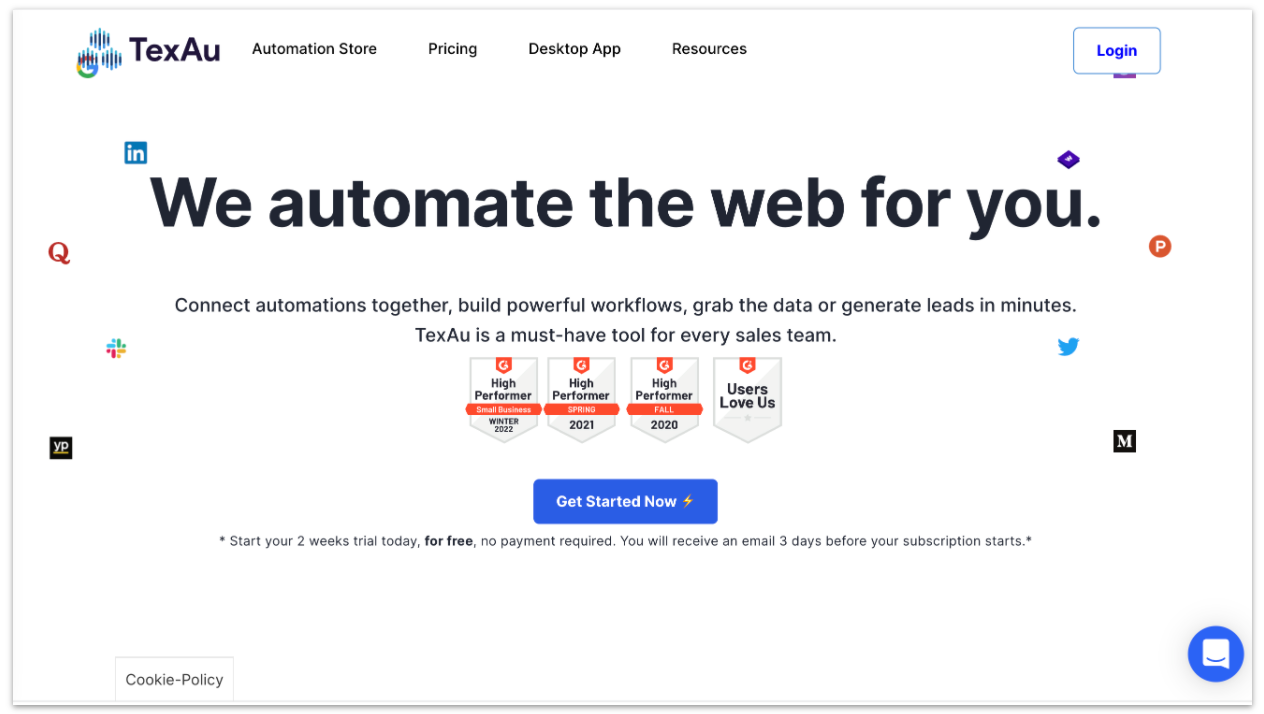 Most of the clients choose TexAu for its super comfortable operability and competent support personnel. TexAu is derived from two words – Text and Automation. True to its name, it is a growth platform that helps scale businesses faster using the power of automation and data extraction.
With TexAu your business can:
Extract data from any social media platform including, but not limited to, LinkedIn, Twitter, Facebook, and Instagram;
Perform actions such as cross-platform drip campaigns, sending messages, and sending connection requests;
Create workflows with a simple, easy-to-use drag-and-drop interface;
Use simple templates that help with the automation process and integrate with multiple platforms;
Work with 1000+ integrations using Zapier and other in-built integrations to connect or pass data to your favorite tools.
This no-code app can save your business a lot of time and money in the process of email and social media outreach. It has a minimal learning curve on how to use all the tools and features. The app's dashboard offers short video tutorials and live chat support to help in implementing their features to your business.
One Simple API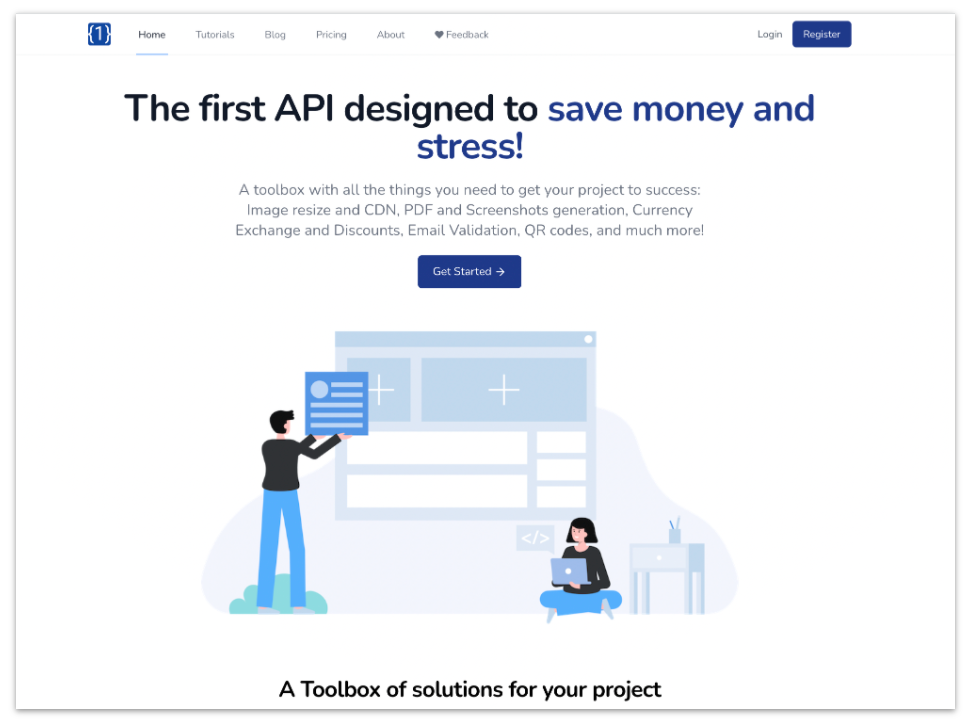 If you are looking for a "toolbox" that would bring all those features that will make your applications perfect, try One Simple API. It is a no-code service that helps fill the gap in your app by providing features like QR code generation, PDF file generation, Image management, Short URLs, etc.
Some of the APIs offered by One Simple API are:
Shorten URL  – create short and easy URLs, get link statistics and details;
PDF Generator – takes a screenshot of a webpage and converts it into a PDF document;  
QR Code Generator – creates scannable codes for the products and services offered by your company;
Exchange Rate – gets up-to-date currency conversion rates for over 150 currencies on your webpage;
Webpage Information – gives you detailed information about any page, such as SEO information, title description, meta tags, etc.;
Email Validation – helps in making sure your address list is accurate and weeds out invalid domains, throwaway addresses, and free addresses;
Image Management with CDN delivery– resize, crop, focus and optimize images, also deliver them to your users from a CDN (Content delivery network) for blazing fast speed;
Color and Color Palette Generator – chooses the right colors for your design and create unique palettes based on text.
APIs usually require coding skills, but One Simple API helps provide all these without you needing a developer's assistance or typing a line of code.
NativeForms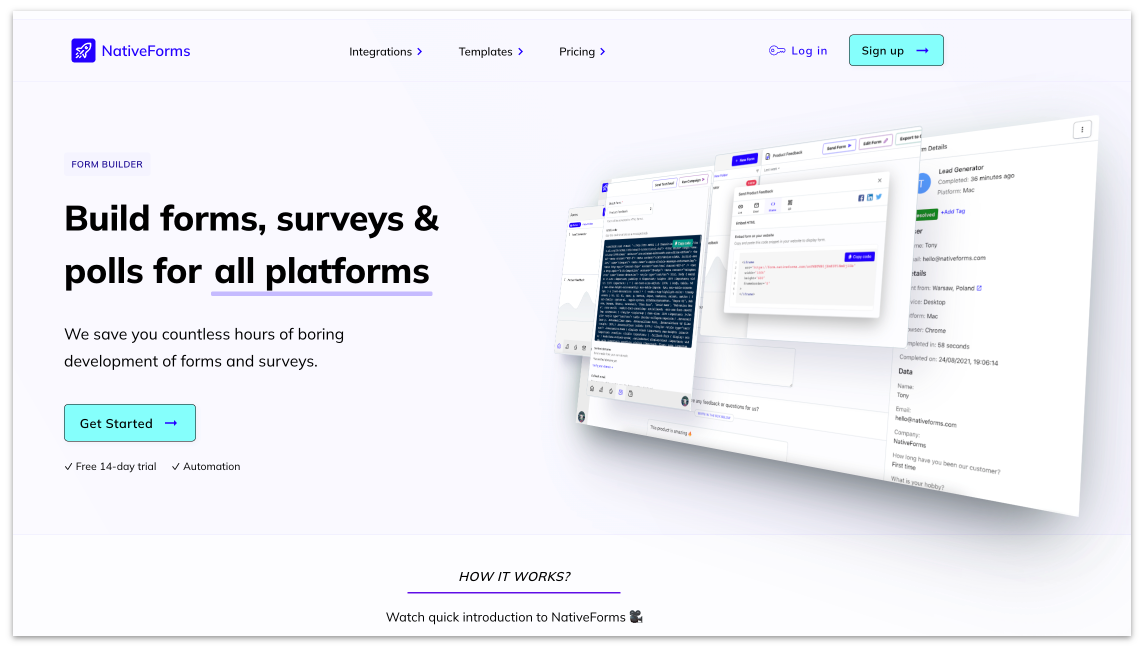 We all know that it is essential for any type of business to receive customers' data. Forms, surveys, and polls are the means of communication in the modern digital world. Native Forms is incredibly popular for the flexibility of this product. It was developed for building forms, surveys, and polls for all kinds of platforms. This no-code app saves your business countless hours of development time. A few key features offered by NativeForms, are:
Unlimited Forms & Surveys;
Unlimited websites, submissions, and embeds;
Downloadable HTML forms;
Form editor – to create your forms;
Email notification – to notify you once a form has been completed;
Embed widget;
Embed forms in emails – helps improve conversion rates;
Templates – over 30+ form types where you can edit questions based on your requirements, and define conditions.
NativeForms integrates easily with Google Sheets, Jira, Slack, ActiveCampaign, Stripe, Intercom, Zendesk Sell, Notion, Hubspot, Pipedrive, Trello, Salesforce, Monday.com, Airtable, Discord, Mailchimp, and React Native. With a library of widgets, easy embedding, convenient integration, and over 30 templates to choose from, you can use NativeForms for form building in no time, generating leads, and focusing on the core of your business.
Woxo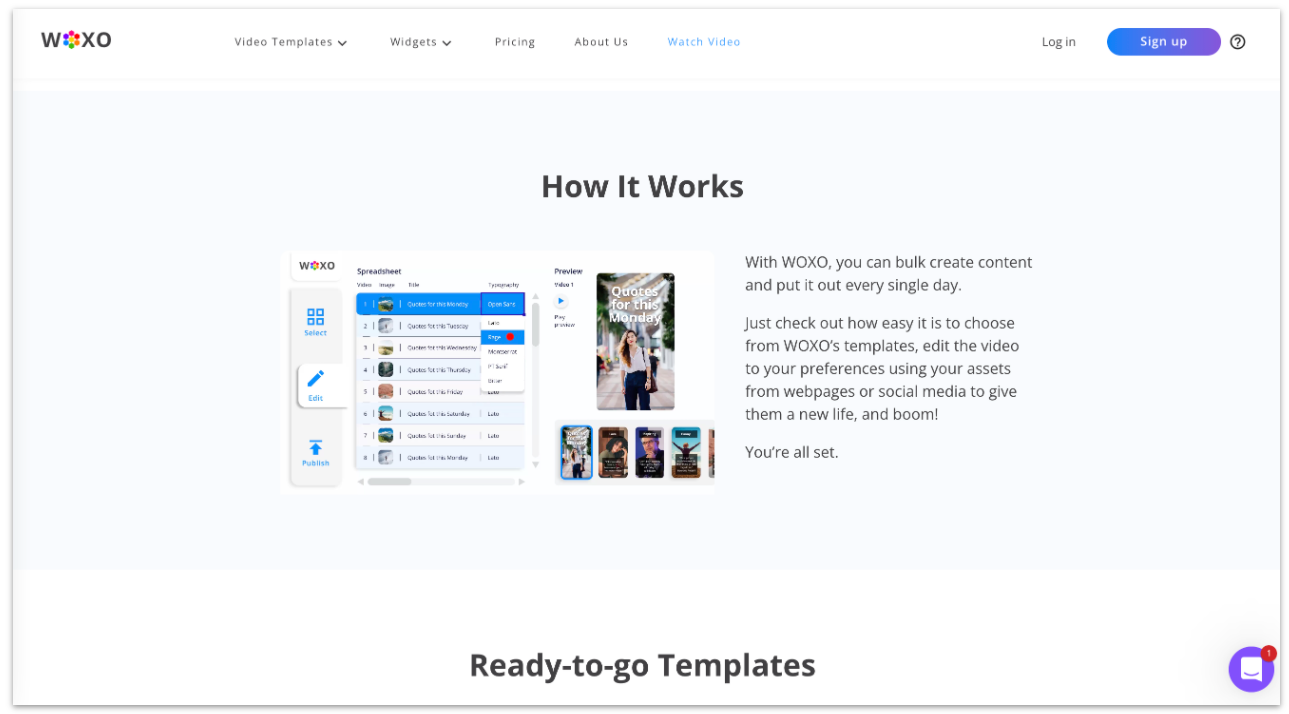 Woxo is a fantastic no-code platform for those of you who need to create a lot of professional looking videos really fast without hiring a marketing team. How exactly does it work? Woxo is a multichannel video creation platform that helps craft content with a Google spreadsheet and quickly convert it to videos. It also provides ideas for new content with carefully curated video templates for a variety of industries. You can import photos and videos from your social media accounts, Google Drive, website, and Dropbox to create bulk content and use it for marketing purposes.
Some of the key benefits of Woxo are:
Creating videos in bulk from spreadsheets and allowing your team to collaborate on making changes in real-time;
Leveraging your best-performing content on social media platforms to improve client engagement and conversions;
Automate branding in your videos for a multichannel marketing strategy in a few easy steps.
Woxo helps any business create professional content to scale their digital presence by using new inclusive technology and widgets, sharing your social media content directly on their website.
Pabbly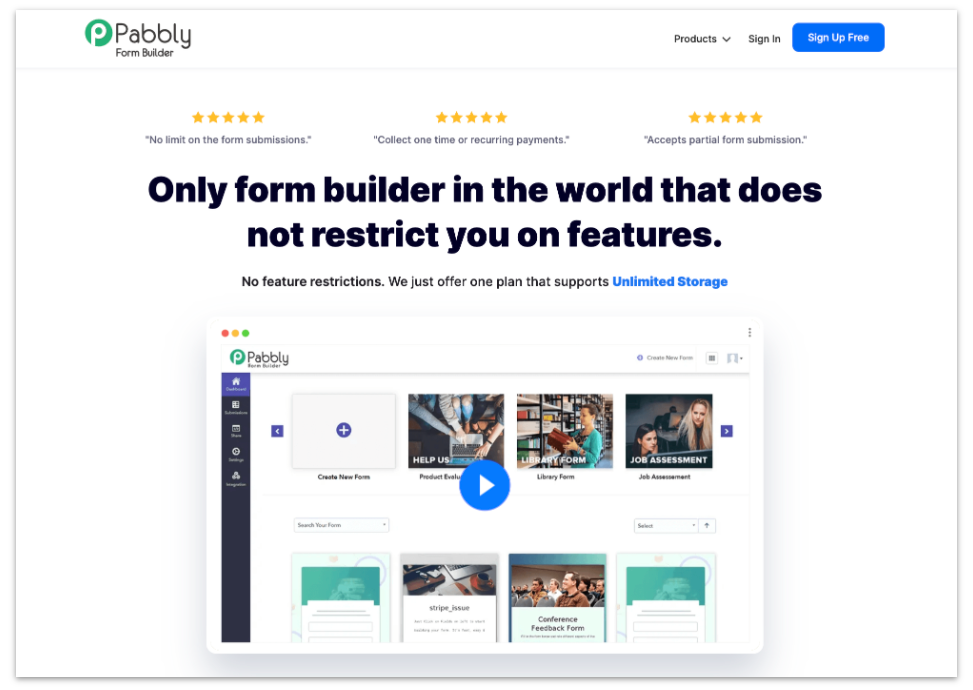 Many customers say that they have been able to solve multiple problems with the workflow by using the no-code app, Pabbly. It is a sales and marketing platform that helps automate business processes without software development knowledge. Whether it's sending promotional bulk emails, managing sales & billing of customers, verifying email databases, or placing subscription forms on your website, Pabbly assists your enterprise to run smoothly. Some of the tools offered by Pabbly are:
Email Marketing – sends promotional information in bulk with its email builder and multiple templates;
Form Builder – helps create customized forms to capture leads, register, collect payments, take subscriptions, etc.;
Subscription billing – automates recurring billing and customer subscriptions using a cloud-based platform;
Email Verification – verifies the leads or contacts from various sources with utmost accuracy;
Pabbly Connect – an automation software to connect various applications together.
Take a Pabbly Plus subscription for unlimited access to all of their tools and features to have a complete business management bundle for all your sales and marketing needs. You can also choose individual tools as per your company's requirements and pay for them only. For added assistance, Pabbly offers tutorial videos on its website to understand how to use its features comfortably.
Elfsight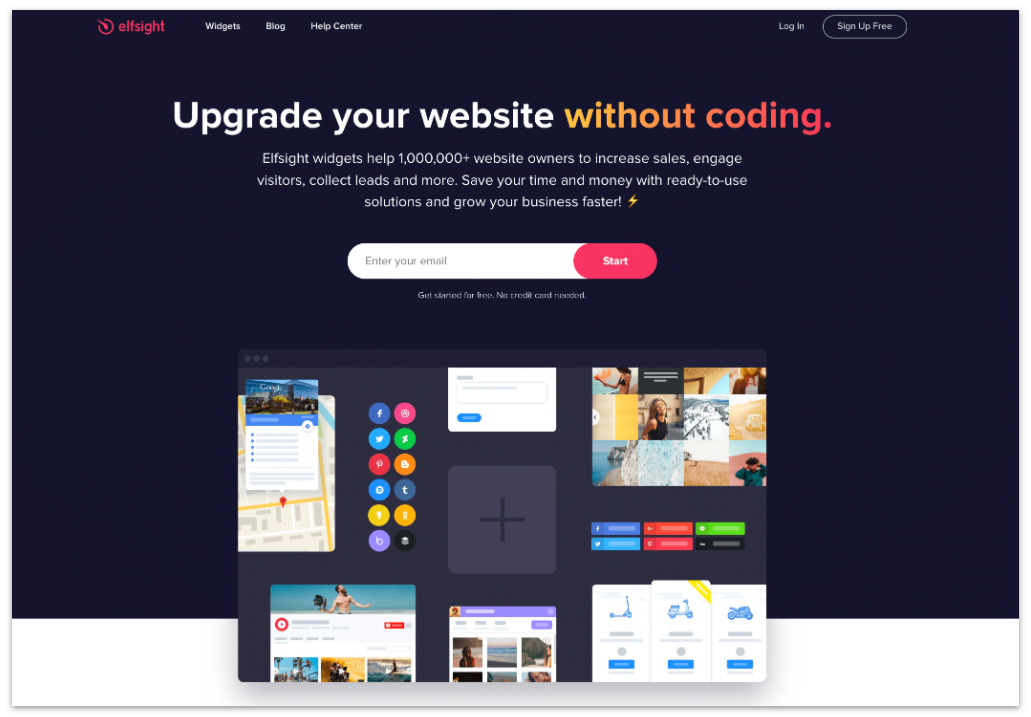 Many users recommend Elfsight for its high quality widgets and super easy usage. It is a no-code website builder platform developed to help business owners increase sales, engage visitors, generate leads, and grow social media followers. It provides customizable and coding-free website widgets that offer rich integration capabilities with other website platforms. Some of the benefits provided by Elfsight widgets on your website are:
No need for technical skills – all the widgets offered by the Elfsight application can be used without a single line of code;
Sales generation – you can add a PayPal button, pricing table, testimonials slider, Facebook reviews, FAQs, etc. to your company page;
Customer Support  – you can build forms, FAQs, surveys, and polls on your webpage;
Social media followers increase – add the YouTube gallery, social media icons, Twitter, Facebook, and Instagram feeds directly to your webpage with the social media widget by Elfsight.
Elfsight applications allow users to analyze their website's efficiency and other important metrics to see customers' interaction with their webpage. It can be easily integrated with most of the website builders.  They offer a premium plan or subscription-based pricing strategies.
---
No-code: the future of software development

As per a recent Gartner study, by 2024, 75% of large enterprises will be using at least four no-code tools for IT application and citizen development initiatives.
With the realization of the "No-code movement" and its user-friendly implementation, it is not a trend but an evolution that is happening at a rapid pace. It offers freedom to business owners with no knowledge of coding to be able to launch their ideas, build business enterprises, and follow their entrepreneurial aspirations.
We hope these no-code apps will be instrumental in your company's growth and help you save time and money. Try their free subscriptions and see, which of them suits your business requirements best.
---