How to Create an Affiliate Store
With the advent of the Internet, generating income online has become easier than ever. Warren Buffett once said, "If you cannot find a way to make money while you sleep, you will work until you die." But what if there is a way to make money anytime and from any location? This is the concept of affiliate marketing. Valued at $17 billion in 2022, affiliate marketing is a process where a publisher earns a commission for promoting a merchant's or retailer's goods or services on his platform — an affiliate store.
Though the idea is straightforward, an affiliate online store is far from a get-rich-quick scheme. It requires consistent effort, patience, and a thoughtful strategy to earn a significant passive income. This article will walk you through the basics of how to build an affiliate store website.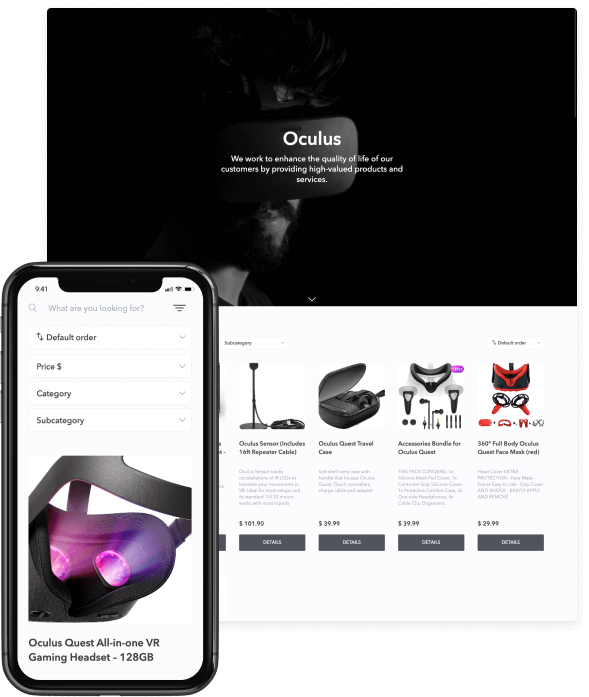 What is an Affiliate Store?
An affiliate store is an online shop like an e-commerce website, but instead of listing your own products for sale, you list other retailers' products and redirect visitors to their websites using your affiliate links. The creation of an online product requires time, investment in its development, and testing in the market to see how consumers respond. Instead, you can try selling somebody else's product without worrying about inventory handling and customer service. In an e-commerce store, there is more upfront investment needed to build, launch, and keep product inventory. While in an affiliate store you spend next to nothing, as affiliate programs are free to join and allow you to increase product offerings and revenue.
Steps to create an Affiliate Store:
1. Defining a Niche
A niche is a highly specialized market. It can be divided into categories such as macro-niche, sub-niche, and micro-niche. Since affiliate marketing is competitive, selecting the right niche carries a lot of weightage. The adequate choice helps cultivate a loyal customer base, reduces competition from market leaders, and builds a long-term source of income if managed well.
For example, healthcare is a macro niche comprising fitness, skincare, weight loss, hair care, etc., as sub-niches in its segment. And if you select "organic soap for women under 40 years", this becomes a micro-niche of target customers to whom you are catering.
Benefits of a Micro-Niche
When you narrow down your niche, it reduces your competition in the segment, and you get a well-defined target audience. It eases your strategy and content planning, you achieve better SEO (search engine optimization) content plan, authenticity, and trustworthiness for your brand. The selection of the best niche comes down to what you know well and are passionate about.
An average online customer doesn't take a product recommendation unless they feel that the person recommending the product understands it. So you need to define your USP (unique selling proposition) and have a creative approach that will attract customers to click links on your website. This helps create a connection and trust with the potential consumer.
Points to keep in mind when selecting your niche:
Know your interest – Look for a niche that you are interested in, so it is less of an effort to learn and research it.
Follow the trends existing in the market – Use Google Trends to know what is already selling and doing well in the market.
Check the profitability of the niche – If you find a niche with many appeals, make sure it has high-paying offers and the potential to generate revenue.
Evaluate the competition – Always choose a niche with high search volume and lower competition. Investigate the competition to ascertain if you can generate revenue for yourself.
Find a niche with multiple products – When you have a wide array of products on offer, the chances of a visitor getting interested in one of them increases.
2. Selecting an Affiliate Program
There are generally two ways to find an affiliate program – join an affiliate network such as Amazon Associates, AliExpress, ShareASale, etc., or an affiliate program of a particular brand.
Affiliate networks are advantageous, as they help you connect with various merchants, giving you a wide range of products to choose from. Amazon is one of the largest retailers in the world, and by joining its affiliate network, you get access to millions of products.
In contrast, when you work with one particular brand, you go through its affiliate program, which may have different terms and payouts. You'll need to seek out brands you want to work with and see if they offer affiliate programs. For example, if your website is in the fashion niche, you may want to become an affiliate for a clothing brand that you are familiar with.
Things to keep in mind when selecting the Affiliate program:
Ensure the brand is trustworthy – Partnering with brands that offer high-quality products will help increase your chances of building a long-lasting affiliate relationship.
Select a product that you know – Being familiar with the product helps to have good knowledge of it and makes it easier to promote it to your target audience.
Search for programs that offer the best competitive rates – Commissions are the backbone of affiliate marketing programs. It is important to consider the affiliate commission rates when selecting the program, as there are varying percentages offered by businesses.
Know the cookie duration – The cookie duration determines how long your association with the referred users lasts after clicking the affiliate link. If the visitor makes a purchase before the cookie expires, you get a commission.
3. Building an Affiliate Website
Once you have selected your niche and the program you will work with, it's time to build your affiliate website. There are several ways to build a website, you can use a self-hosted website, but it requires knowledge of coding, installing a CMS (Content Management System), adding a few plugins, etc., or you can hire a professional to do it for you.
Currently, there are plenty of no-code website builders that simplify the entire process and require no professional help. For example, you can use SpreadSimple – one of the most user-friendly no-code website builders that converts your Google Sheets into an online store in a few minutes. You can try it for free and see if it fits your needs.

Benefits of choosing SpreadSimple
The amazing part of SpreadSimple is that Sheets will function as your site's CMS, so your website gets updated automatically once you edit your spreadsheet information. Adding a new product from another retailer is as easy as copying and pasting their link into your spreadsheet. SpreadSimple also includes several smart formulas that will help add a referral code to each product, fetch product images and prices straight from the host website.
How to use SpreadSimple
If you have already added the list of your goods to Google Sheets, you can simply paste your Sheet link, and the website will be automatically generated. Alternatively, you can use one of the pre-existing templates offered by SpreadSimple, customize it, choose a theme, and fill in some data for trial purposes to get a preview of your future website. Later, you can update the Sheet with the actual product information.
Customizing your platform with SpreadSimple
Next, you can configure the content and the way it will appear on the website by connecting the store elements with the columns in your Google Sheets.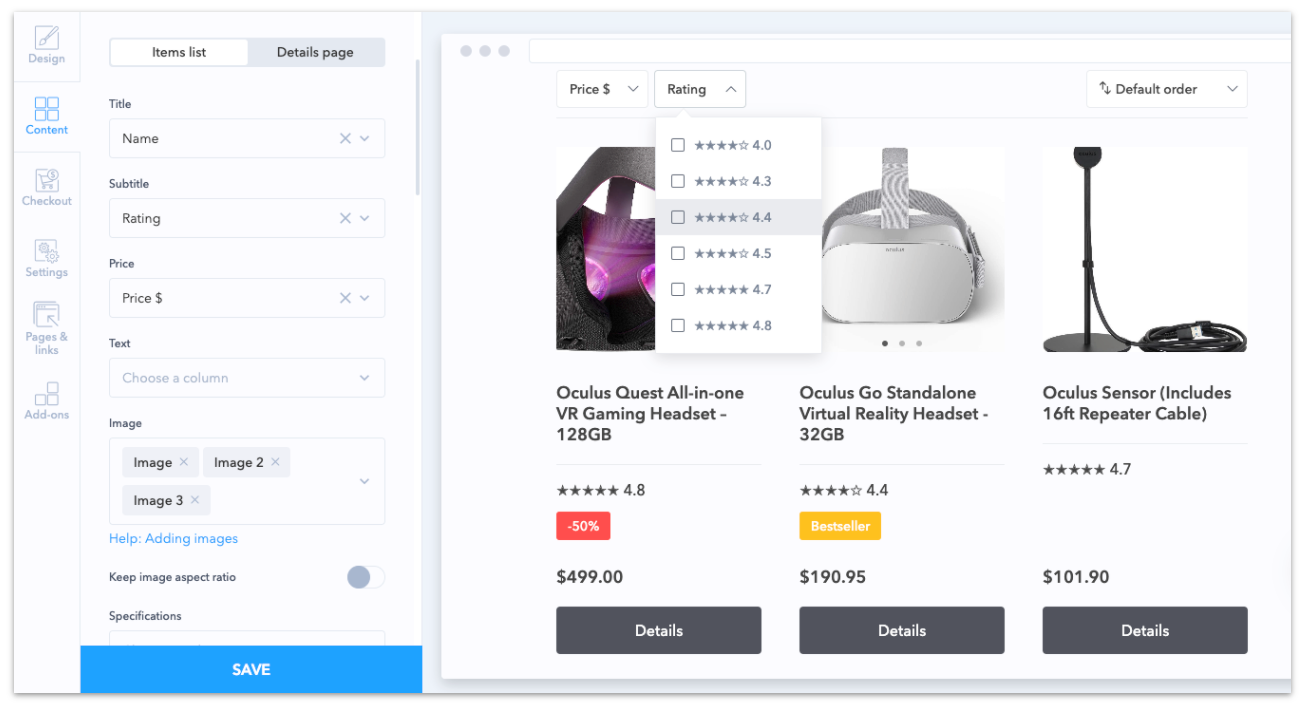 Next, you can configure the content and the way it will appear on the website by connecting the store elements with the columns in your Google Sheets.
You can also customize the design of your brand by adding a logo and an image, choosing the color theme, font, and tagline of your store. Create an additional page to tell about your store and products. With SpreadSimple, your online store will have the following features:
promo codes
taxes
offers
shipping rates
filter sorting search
product pages
order notification and receipts
custom domain
You can also set up SEO to rank higher on search results and connect analytic tools to understand your website's performance, and how your visitors are interacting with your page.
What's next?
Write Valuable and Specific Content
With your website up and running, all that is left to do is write valuable content that resonates with your audience. The difference between successful and unsuccessful publishers/affiliates is high-quality specific content, as it not only gets you traffic but also conversions. For quality ideas for your website, do some keywords research to see what your audience most often looks for online. There are plenty of free keyword research tools to help you such as Google Keyword Planner. Even online forums like Quora can help give you valuable insights.
Some of the most common types of content for your store:
Product reviews and comparison
Product roundups (evaluate several products within the same category)
Tutorials and how-to-use guide
Reader testimonials and feedback
Tools or resource pages
Monitor and Set up Analytics
Once you have a good amount of content for your affiliate store, you have to generate traffic to your website by starting an email campaign, being active on social media platforms, participating in online forum discussions, and creating a SEO strategy. Generate traffic to boost conversions and attract potential customers. Chances are, some things will resonate with your visitors and others will not.
Using analytic tools like Google Analytics and Google Tag Manager helps you measure the most important metrics like clicks on your website, earning per click (EPC), and tracking your affiliate links.
Conclusion
Finally, your online store is ready. Moving forward, the most important part is properly monitoring your affiliate links to create an effective revenue generation strategy.
Building an affiliate marketing store takes planning, dedication, and research. But like in any other successful business, the most important step is to start. With patience, attention to strategy, and constant monitoring & optimizing, you will build a successful revenue stream from your store.
If you're ready to get started with affiliate marketing, set up your website without a single line of code and manage your content right from your Google Sheet with SpreadSimple today.
---