What a Product Card Should Include?
We live in the age of information and smart consumers. A customer studies and understands every element of a product before purchasing it. This is why a product card is one of the most important aspects of an online business. The quality of information on your card determines, if a customer will make a purchase or not. Similar to creating an online store, there are established guidelines when inputting your goods information into a product card template. In this article, we will take you through the steps for creating user-friendly product cards to help your business sell effectively.
What is a product card?
A product card is a detailed collection of information about a product or service offered by an online store. It is essentially a web page with a description of the product or service, its characteristics, images, prices, terms of purchase, customer reviews, and more. The card helps to answer the user's queries relating to the product.
It is important to customize your product card so that it gives concise information to the consumer, earns their trust, catches their attention, and helps them make an informed purchase decision. There are 4 main components to a product card:
Product name
Product photo
Product variants
Description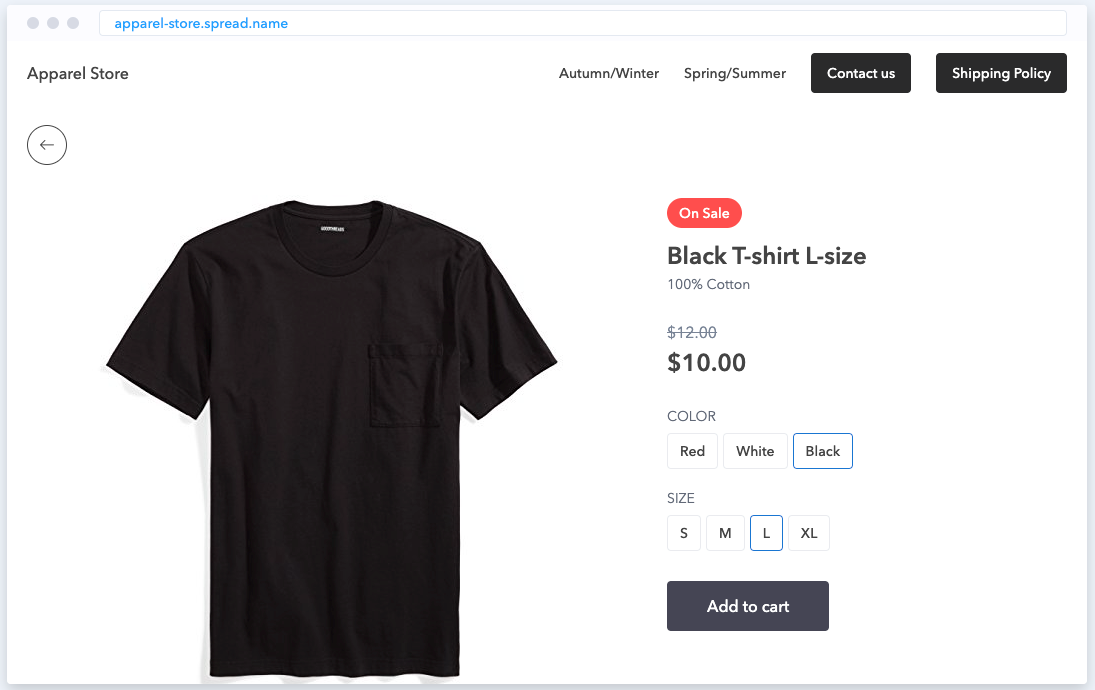 Product name
The name of your product is the first thing that catches the eye of the user. Studies have shown that a person's gaze follows a path resembling the letter "F", so the best place to place the name of a product is the top left or right corner. The product name should be short, simple to read, and understandable.
When you are building your product names make sure to follow this format:
Brand name (manufacturer) + Product type (what is it) + up to 3 key characteristics (color, size, material, etc.) + Model number
For instance, an excellent example of a product name would be:
SIRIL Women's Crop Top Causal Printed Multicolor
and a bad example would be:
2022 New Brazilian Cute Women's Fashionable Tank Top Multicolored Pleated Finish Regular Fit
Product Name Requirements
Some of the ground rules to follow while writing a product name are:
Language: English
Characters limit: 100-150
Spaces between words: required
Information to include: the product's features and its key characteristics
Must be easy to read and understand.
Make sure that a name of a product must not include:
Unreadable characters such as HTML code or non-UTF-8 symbols.
Product's SKU (stock-keeping unit) number
Repeated words and adjectives
Words that promote discounts like "Hot", "SALE", "2018", "NEW", etc.
Mentions of other e-market platforms like Amazon, AliExpress, etc.
Merchant's contact information.
Product photo
After the name, the next important component that draws the users' attention is the product photo. Every online business must make sure to display actual product images through high-resolution photos, preferably in a light background. A beautiful picture of the product can attract more customers, generate a higher click rate, and result in more conversions.
The customer uses the pictures and their variations to get a better understanding of the merchant's product. They enlarge the image to see the details and observe the different angles to visualize the product.
Some key pointers to keep in mind when selecting the product images are:
Do not use photos uploaded by customers as product images.
Do not use photoshopped or stretched images.
Do not use images that are blurred, dark, or of low quality.
Do not duplicate images.
Do not use frames in the images.
There should be no watermarks on the photos.
There should be no superfluous text on the images or words that showcase promotions or discounts, such as "Hot", "SALE", or "NEW".
Product Image Requirements:
The minimum resolution to maintain is 550 х 550.
The image size should not be bigger than 10M.
Product images must be square or rectangular and have a proportion between 1:1 and 3:4.
All image formats must be in PNG, JPG, or JPEG format.
The images must be of high quality, preferably with light monochromatic backgrounds.
The main product photo must be a frontal shot.
Whenever a product comes in multiple variations, providing all the variation images is important.
If possible, add a video review of the product to give a complete picture of its appearance.
Product Variants
A product variant is the same goods that differ in certain characteristics like color, size, model, etc., or function like memory card size, RAM, quality of processor, etc. A product can have multiple variants, and it is necessary to provide a photo and a description web page for each variant.
For example,
Nike Air Jordan Sneaker is a product. Nike Air Jordan Sneaker in Red and White color and size 44 is the product variant.
You can create a product variant when:
The product has different sizes.
The product has different colors.
The product has a different pattern or style.
The product has different functionality, technical parameters, etc.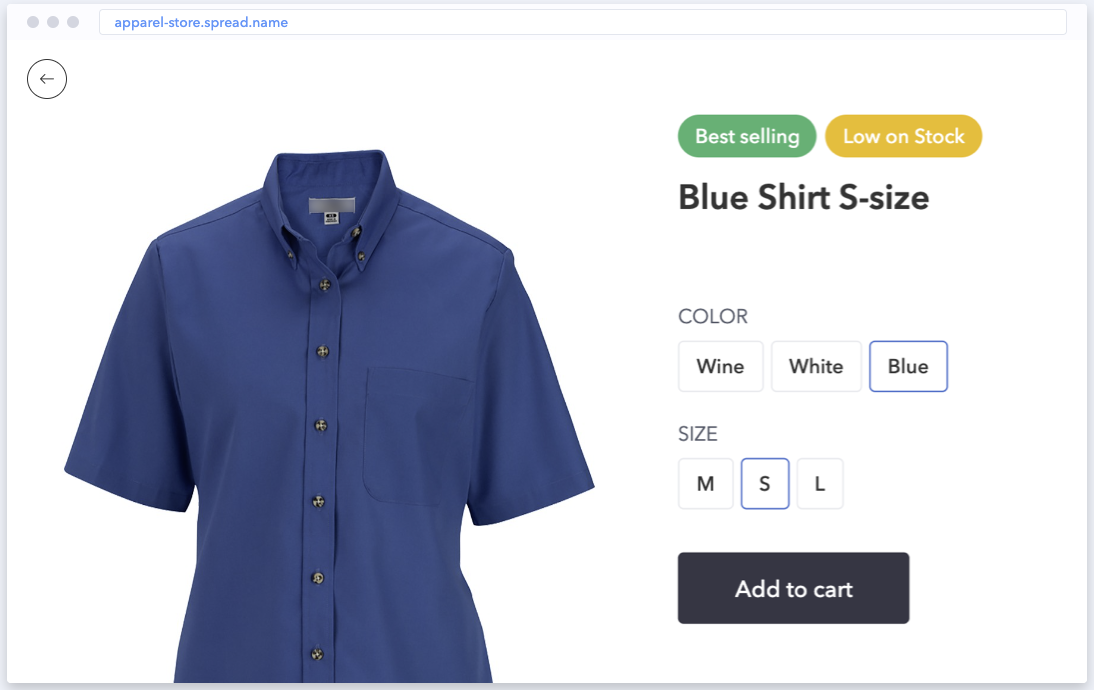 Product Variant Requirements
Product variants must be of the same model. For instance, a table and a chair cannot be different variants of the same product.
Every product variant must have its SKU number.
All product variants must have their own display images and description. For example, if a Bluetooth headphone comes in three colors, namely red, black, and white, then each variant must have a main photo and color description information.
Images, sizes, and colors for several product variants cannot be the same.
You can set the picture and the color name for different variants of the same product.
Do not set "random" as the product variant color, mention the individual color of the available variant.
Do not assign letters or numbers as product variant sizes, such as A, B, C, or 1, 2, 3. The product variant size must indicate the size such as S, M, or L.
If all the product variants are the same size, then do not assign the size as the product variant attribute, instead mention it in the description.
Description
The last key component in a product card is the description. It gives customers basic information about the product such as color, size, materials, washing instructions, etc. Before a consumer makes the final sale, they go through the product descriptions to clearly understand every aspect of the product they are purchasing.
A good example of a product description is
Variant 1:
GRACYLOOKS Women's Casual Printed Sleeve Top
Manufacturer: GRACYLOOKS India
Gender: Women
Material: 70% Rayon, 30% Cotton
Color: As Picture
Item Weight: 299 g
Item Dimensions: 15 x 2 x 10 centimeters
Size: Medium
Package includes: 1.00 count
Description: Size
A similar product created by a different manufacturer will have a different size measurement. For instance, a shoe manufactured by Adidas and Converse will have slight variations in the measurement of size. Since in an online business, the consumer cannot try the product, it is important to carefully fill in the size details of the product in centimeters (cm).
A good example of a size description for a women's top would be
Size: Small (S), Bust: 88 cm, Length: 56 cm, Shoulder: 34 cm Size: Medium (M), Bust: 92 cm, Length: 57 cm, Shoulder: 35 cm
And a bad example of size description is
Size from top to bottom S: 68.5 cm, M: 70 cm, L: 71 cm
Description: Material
The material of a product can never be identified by looking at its images online. For any online purchase, merchants and businesses need to write the materials or ingredients in the product description. This factor is very crucial to be included in the product card as it can be the deciding factor between a positive conversion or loss of sale.
A good example of a detailed material description is
Material: 70% polyester, 20% cotton, 10% spandex
while a bad example would be
material: cotton blend material: mixed fabrics material: combined with polyester material: random
Description: Other Characteristics
After the size and material, you can add any other specific information to your product's description. The customer wants to receive maximum information about the goods they are purchasing, so make sure you provide a consumer with useful details that will help guarantee your sale.
For instance, when writing the description of a product make sure to give important details like the garment is waterproof or does not crease. In the case of furniture, you can explain how it is easy to clean, convenient to move, and other such information.
A good example of other characteristics is:
Material: 70% polyester, 20% cotton, 10% spandex Inner filling: artificial feather Season: winter Fit: loose Pattern: polka dot Decoration: hand embroidery Closure type: zipper, clip buttons Sleeve length: ½ Sleeve Style: Regular Hood: yes Pockets: yes Washing instructions: only dry cleaning
Conclusion
The final purchase decision made by your clients is largely influenced by the product card you design. It is an important business factor that should be carefully studied and made in an informative and concise way. Always make sure not to clutter the product card of your website with unnecessary information, and include all the important elements along with the conditions of the purchase.
---