Conversion Mastery: Examples, Strategies, and Tactics
Every online business focuses on their website's traffic generation and search for customers. But many companies miss out on the key steps that need to be taken once you have generated those leads. You may have already checked out our insights into the ways to boost website traffic and how to find customers for your product. The next logical step for growth is implementing a conversion marketing strategy that helps leads convert into consumers. So let us explore the best tactics to use for conversion, as well as define its benefits and types.
Understanding Conversion Marketing
Before diving into conversion marketing and the steps to implement it, we need to understand its meaning and the advantages it offers.
What is a Conversion?
As the word suggests, conversion is a type of transformation in which an interested website visitor or a potential lead carries out a specific action. It is a change that moves a customer further down the purchasing funnel. While purchases are the main conversion that most businesses strive for, actions that lead to a future successful purchase also count. Some examples of conversions include:
Signing up for emails
Filling out a contact form
Scheduling a demo or trial
Subscribing to a free trial
Making the first purchase
Becoming a repeated customer
Renewing a subscription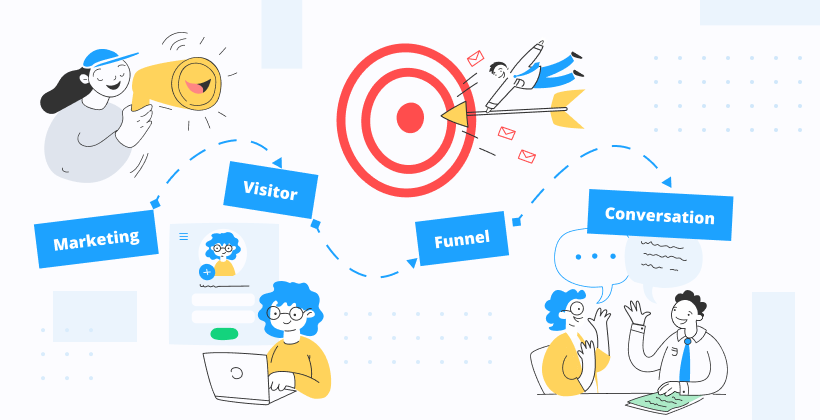 What is Conversion Rate Optimization? (CRO)
CRO, or conversion rate optimization, is how marketers improve their website's look and functioning to move more visitors into paying consumers. A strategic CRO calculates conversion rates and the cost per conversion to identify the number of visitors who must convert in a given period to make the business economically viable.
The conversion rate is calculated by dividing the number of transactions by the number of unique visitors (meaning counting each visitor only once) and multiplying it by 100. The calculation gives a percentage that determines how many customers become product buyers.
Conversion rate = Number of transactions/number of unique visitors x 100
According to Wordstream's study, the average conversion rate through websites is 2.35%, irrespective of industry. This means for every 1000 visitors, the average conversion number that you can expect is between 23 and 24.
Benefits of a Conversion Marketing Strategy
Every business dreams of having all the customers love their product or services, but that is not a practical outcome to hope for. If a company can refine its most valuable asset – the website, it can effectively maximize its conversion rate and get an edge over its competitors. This is achieved with a good conversion strategy. Other ways in which a conversion marketing strategy benefits your business:
It refines digital marketing processes – A business pays regularly to maintain its website and build digital marketing assets. By refining these with a conversion strategy you tweak your existing digital processes to have maximum impact and reduce the cost to move customers through the sales funnel.
It helps you improve both the quantity and quality of leads – CRO helps a company get loads of data and determine what motivates its audience to convert. Thanks to this information, you discover what types of leads complete certain tasks and are more likely to convert. This, in turn, provides a boost in lead quality as well as quantity. High-quality leads are brand-loyal customers who help reduce the business's customer acquisition cost and increase their customer lifetime value.
It increases conversion rate at every opportunity – Conversion marketing is a holistic process that takes you through all the steps of the buyer's journey, from when they first get associated with your brand to when they continue making repeat purchases. This data assists in streamlining your sales funnel and flags errors at every stage where you can improve conversions. You will not only convert new prospects but also maximize your customer retention.
It illuminates the behaviors of your audience – Conversion strategy information provides mountains of data on customer behaviors. This not only helps improve your conversion rate but also illuminates the behaviors of your audience to help you customize your products and services to target them better.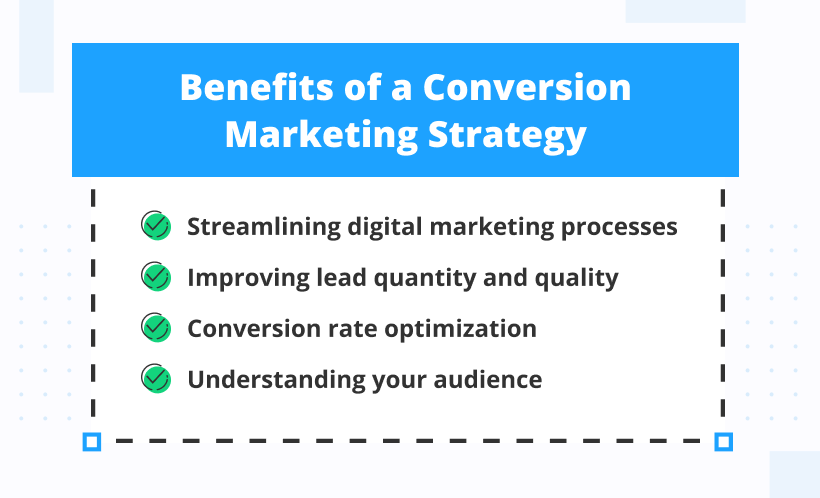 Developing a Conversion Marketing Strategy
Now that we have a clear grasp of the concept, let us analyze developing of a conversion strategy in marketing. The first step requires an organization to define the measurable steps you want your visitors to take leading them to a purchase. These are different conversions, and they are crucial aspects of your sales funnel. For instance, the steps a B2C online store might want customers to complete could be:
Visiting their website
Checking out the product web page
Signing up for emails
Making the first purchase
Becoming a repeat customer
On the other hand, the steps a B2B company might want its consumers to complete could be
Visiting their website
Browsing a landing page
Filling out a contact form
Scheduling a demo
Starting a free trial
Purchasing a subscription plan
Renewing their subscription plan
Once you have determined the steps, you identify the associated KPIs that help measure the success of each conversion. Optimizing them, running regular tests, making changes, and tracking your progress will help increase your conversion rate.
Key Steps to Develop a Conversion Marketing Strategy
The key steps of a conversion process follow the same basic format, no matter the company's goals:
Awareness – At the first stage, the potential customer becomes aware of your brand's product and services. This can happen due to them reading a blog post, hearing about your company from a friend, seeing an advertisement, etc. Many digital marketing strategies like SEO and social media marketing focus on this stage to bring awareness about your product.
Interest – Once a customer is aware of your brand, they start developing an interest in your offerings. This enables them to visit your website, read about your products, and compare you to your competitors. During this phase, for conversion to take place, you should provide ways for customers to reach out to you. For instance, you can share a contact form to answer their queries or have an instant chat icon to enable two-way communication.
Consideration – In the third step, potential clients are considering purchasing your product or service. They compare and research your company in more detail. In this stage, you can provide them with easy-to-access information, including pricing details, product information, and testimonials of satisfied customers. One of the best ways is to post a video demo, as 69% of consumers say a product demo best assists them in making a purchase.
Intent – Now the potential customer has decided that your product or service is right for them. They will add the product to their cart, fill out a form, or call a sales representative to help make a purchase. In this stage, the customers have been converted into a consumer, and your company needs to provide quick and easy assistance to make their purchasing experience as smooth as possible.
Purchase – Once the client has bought the product, they have become your first-time consumer. But your conversion strategy does not end there. In the last stage, you need to focus on the retention of the client and make sure they are satisfied with the purchase. These efforts, like a follow-up after the sale, customer support, and sending promotional offers for other products, enable you to have a loyal consumer following.
Effective Conversion Marketing Tactics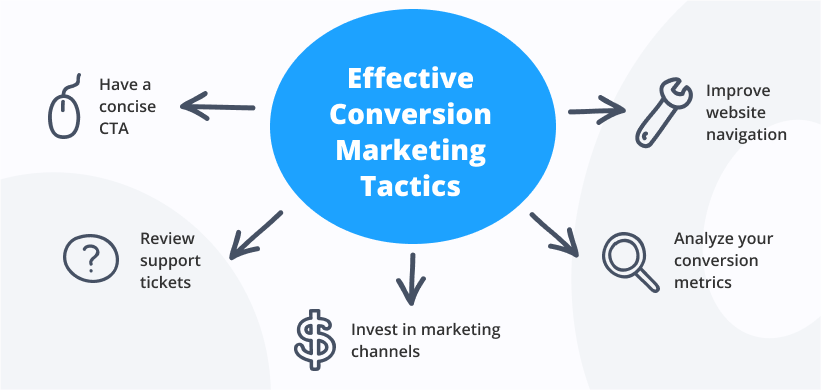 Conversion marketing is a very broad topic and covers many tactics and methods. To achieve your conversion goals, we have listed some of the best strategies below:
1. Draft a clear value proposition for your potential customer
The main focus of conversion marketing is to have interested parties become paying consumers. This requires you to have clear and value-driven messaging in your tactic. Lead generation strategies may prioritize humor or style to draw a customer's attention, but for conversion strategy, you need to be straightforward. It is best to let potential customers know why they should purchase your product right away with a direct and concise call to action (CTA).
2. Improve website navigation
Many marketing teams can increase sales by improving their website and removing barriers that may inhibit potential clients from purchasing. Most businesses should focus on enhancing the user experience across their platform. Marketers can use heatmaps, A/B testing, and other analysis tools to ensure visitors experience a streamlined landing web page with a clear CTA and that the sales funnel is smooth and attention-grabbing.
3. Invest in high-performing channels
As an online business, you should track your conversions across all your marketing channels. This helps reassess your strategies and invest in tactics with a higher ROI. You can then focus your attention on top-performing channels for remarketing your campaigns to entice potential customers for conversion.
4. Review support tickets
Support tickets provide real-time data from potential clients who are having an issue before making a purchase. Analyzing this information can help improve the purchase path for a customer and make it easy to increase your number of conversions.
5. Monitor other conversion metrics
Besides the marketing channels and support tickets, it is important to monitor website data, such as cart abandonment statistics, email click-through rates, the amount of time it takes customers from their first visit to purchase, the demographics of high-conversion consumers, and overall website traffic, to streamline the conversion process. This helps implement new marketing tactics like sending dedicated email marketing campaigns with special offers to customers who abandoned their carts, to aid in conversions.
Lead Conversion Strategies
A good lead conversion strategy consists of two parts: building a lead conversion process and following the best practices to increase the conversion rate.
Building a Lead Conversion Process
Every business needs to have a streamlined conversion process to thrive in a highly competitive marketplace. This not only boosts your business but also helps get good leads internationally. There are five steps to building an effective and efficient lead conversion process.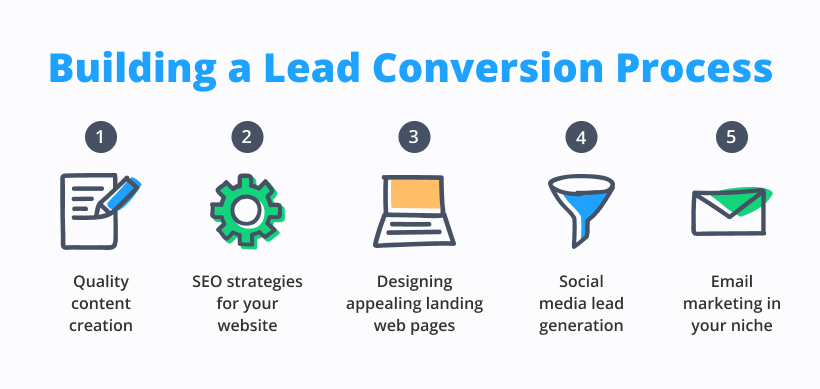 Quality Content Creation
As we already know, adding high-quality content to your website and social media channels helps with getting more potential customers for your business. This also helps in developing trust with your clients and nurtures a healthy relationship with them. Hence, by creating informative content like blogs, e-books, and product demos, you can indirectly generate good revenue for your business.
SEO Strategies for Your Website
The best lead generation and conversion happen if your business has high visibility on search engines. So investing in correct SEO strategies is essential for ranking organically on platforms like Google. Some of the SEO elements to focus your attention on are web page titles, URLs, headers, interlinks, and content. For more detailed information you can refer to our A step-by-step checklist for perfecting any SEO website article.
Designing Appealing Landing Web Pages
Your web page design is the first form of communication with the client. It is the element that defines the usability, reliability, and success of your website. By adding strategically placed images, videos, chat icons, and CTA buttons, you can make your website appealing and result in more conversions. It is also important to make sure that all your links are clickable and assist with generating leads. One way to achieve an appealing landing web page is to use pre-designed templates that improve your website's user interface.
Social Media Lead Generation
In today's world, most people are highly engaged on social media platforms like Facebook, Instagram, Twitter, LinkedIn, etc. An organization generates 80% of its B2B leads by using a platform like LinkedIn. Hence, leveraging social media platforms to spread awareness about your products and services can help grab the attention of your target audience and result in more conversions.
Email Marketing in Your Niche
Though emails might seem vintage, they are still very effective tools for outbound and inbound marketing. It is a great medium to generate leads and build a strong relationship with your target audience. By sending your customers regular emails on special occasions such as festivals and birthdays, you not only nurture a lasting impression but also keep them informed about your products and services.
Lead Conversion Best Practices
Every website visitor takes less than a second to form an opinion about your brand. Thus, it is vital to capture this micro-moment and grab the attention of your customer and convert them into consumers. So here are some effective strategies to improve your lead conversion rate.
1. Understand your ideal market
Any business needs to study and analyze the market they are operating in, as well as understand the behavior of its target audience. This gives them vital information like the demographics, geographic location, and socioeconomic background of their potential customers. Using this data, companies can incentivize clients to convert into consumers.
2. Segregate your leads
Every business generates tens of thousands of leads every month. To select good-quality leads interested in buying your products or services, you should conduct a thorough research on them, which will show their interaction with your platform and their past sales activity. This approach helps save a lot of time and effort for your entire sales team.
3. Establish instant communication with your consumers
Good quality leads are like fresh produce in the market, meaning they need to be attended to immediately. If there is any delay in communicating with your potential client, it can result in them losing interest in your brand and moving towards your competitor. Addressing their concerns and queries quickly can show them that you care about your customers and are willing to go the extra mile to assist them.
4. Effective communication channels
Just like it is important to know your customers, it is also essential to implement the proper communication channels used by your prospective consumers. For example, if you want to increase your brand awareness, then social media platforms like Instagram, Facebook, Twitter, and YouTube can be used, while to reach out directly to your existing consumers, cold calls and emails would be an effective medium.
5. Regularly follow up with your customers
By regularly following up with your target audience, you let them know that you care about their needs and are willing to provide them with all the services they want. Making them aware of your business's offering and highlighting its uniqueness can help with your conversions in the long run.
6. Divide and Conquer
It is good to divide your sales team into two parts – one that supervises and caters to your existing consumers and the other that handles all the new leads generated by your business. This helps your company handle all income leads effectively and cater to the demands of existing consumers efficiently.
7. Display the reviews of your customers on your website
Research shows that 72% of people trust businesses with positive customer testimonials and reviews. So it is advantageous for your business to display customer reviews on your home web page and blog posts. This also helps establish and build trust with your new customers.
Conversion Strategy in Digital Marketing
Types of Conversions in Digital Marketing
As we have learned, conversions are not just direct purchases, but any action taken on the brand's website that provides information about your customers, such as newsletters, contact forms, webinar subscriptions, and much more. The term has a very broad definition that varies from company to company. So here are a few common examples of conversions to help your business better formulate a strategy.
Downloading Content – One of the most common types of conversion is when a customer downloads a piece of content you have provided on your website. It can be as simple as a blog post, instruction manual, free calendar, etc. There does not necessarily need to be a direct purchase for a conversion to have taken place.

Product Purchases – For most online businesses, this is the most valuable form of conversion. The direct purchase of a product or service results in revenue for your brand and value addition for your consumer.

Event Subscription – When a customer fills out a contact form or registers to attend a promotional event, they have shown an active interest in learning about your company. This form of conversion is great for brand awareness and helps you to understand what makes your business special to your clients.

Scheduling a demo – This type of conversion holds the same value as a direct product or service purchase. If you have a shopper who has booked a demo to view your product, they are signaling that they have a strong desire to purchase your goods. With a little nudge from your sales team, you can convert them into paying consumers.
Successful Conversion Strategy Marketing Examples
Many online businesses have successfully implemented conversion marketing strategies to boost overall revenue. We have listed a few real-life examples below that can be replicated for your own business.
1. Trucker's Report
Trucker's Report is a community forum for drivers where visitors can build their network, get assistance from seasoned truckers, and find new job opportunities. Despite having heavy traffic on their website, they were not generating many conversions. They figured out that their content was too generic and was not persuading leads to convert. They changed their headline, altered the design of their form, and replaced the background template with images. This resulted in a 79.3% increase in conversions.
2. GoCardless
GoCardless is an online payment company that added a DEMO request on its landing web page to persuade people to buy its products. But they noticed that even with this addition their click-through rate was declining. After an investigation, they found out that the CTA phrase "Request A Demo" was making their visitors reluctant to click on the button. They changed the original CTA with "Watch A Demo" and quickly received a 139% boost in conversions.
GoCardless's case study gives us incredible insight into the powerful effect of specific action words. By changing its CTA phrase, it removed the feeling of hesitation and improved its click-through rate.
3. Elkjop
Elkjop is one of the largest consumer electronics retailers in the Nordic countries. They recently expanded their business to cater to international markets. But this change caused a drop in the quality of customer service and resulted in a decrease in conversions. Elkjop then created an automated chatbot to handle the bulk of customer inquiries and reduce the workload of their in-house team. This little addition of automated support increased their customer satisfaction by over 80%.
4. OffSpring
OffSpring is a retail store that had a very well-structured website layout. But even with this, they had declining sales and a bad Google ranking. They came to the realization that the cause behind this issue was their platform's lack of compatibility with mobile devices. So they revamped their website to have a mobile responsive design. This improvement increased their sales by 102% that year. People nowadays shop through their smartphones. This case study is an ideal example of how a mobile-friendly website could positively impact company sales.