A step-by-step checklist for perfecting any SEO Website
If you have a business website, chances are you've heard of the game-changing power of SEO (Search Engine Optimization). Simply put, a good SEO strategy increases your visibility online. This means that the more people see your website, the more visitors you attract, and your sales and lead generation increase.
When you build a webpage, there are two main aspects to consider: search engines and customers. You need an SEO-friendly website to rank higher on search engines and also attract consumers to find their products. Mastering SEO without any digital marketing experience can be quite a challenge. So to help you understand it better, in this article, we will take a look at why SEO is important and at the different ways to perfect it.
1. Why SEO is important for website ranking
SEO is the practice of optimizing a website so that it ranks higher on search engines, which today mostly means Google. Your website's ranking in SEO is all about where it stands on the search engine results pages (SERPs). A number one ranking means that when visitors search for a specific term, your webpage is the first result they see organically after the paid advertisements and that is the goal of every website.
Though paid traffic is good for short-term goals, every business should achieve organic traffic. Appearing in the top 3 results is amazing as your click-through rates are the highest when you are closer to the #1 ranking, as you can see in the image.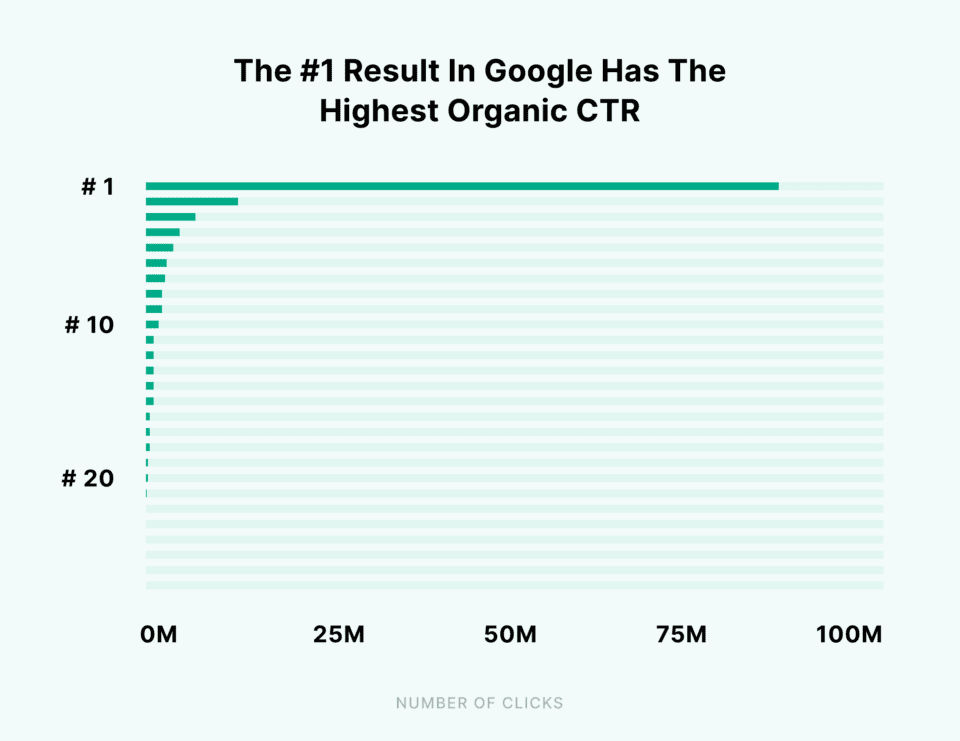 Research also shows that 95% of people look only at the first page of search results and about 50% of those clicks go to the first three results. So even if your business website has a stunning and attractive design, but your ranking is low, your consumers will be unable to find your platform organically.
Here are the top benefits of SEO in website ranking:
SEO increases organic traffic – Organic traffic refers to the visitors who found your webpage after searching on Google, Yahoo, Bing, etc., and clicking on it. This is the best kind of traffic that is needed for brand building and recognition. As we already mentioned, the first search result gets over 50% of the clicks and from there it only reduces. That is why you want to design and optimize a website that ranks higher on SERPs.
SEO webpage design attracts potential customers – When visitors come to your website organically, they hope to find an answer to their query. While they may not convert into a client right away after discovering your webpage, they are now aware of your business and will come back, if they have any other related questions. This high-intent traffic is better than other forms of website traffic as its conversion rate is higher and this in turn increases sales for your business.
SEO incorporation improves the user experience – Google has refined its algorithm to include user experience-related metrics as a factor in ranking. By doing so, Google ensures its own user experience is top-notch. Improving your website's SEO is an essential strategy ensuring your webpage works well and is easy for a customer to navigate. So having a high-ranking webpage also builds trust with your users while helping them find what they are looking for.
SEO gets the best ROI from your marketing budget – Every dollar invested in SEO brings $100 back, which is a return on investment (ROI) of 9,900%. An SEO strategy can take some time to implement, but the changes are long-lasting and tend to be free. Many businesses can put SEO parameters in place with a little bit of website knowledge. In short, the point is that SEO is a low-cost investment for helping your webpage reach its goals and increase ROI.
2. On-Page SEO checklist
On-page SEO refers to the factors on your own website that can be improved. It involves the process of optimizing various front-end and back-end components of your webpage to increase its ranking on SERPs. As a business owner, you can use content and technical elements to increase the quality of a webpage to drive more relevant traffic to it. Here are the important elements of the on-page SEO checklist:
Webpage Content
One of the most crucial elements of on-page SEO is your content, as this is what tells the search engine and readers what your website and business are all about. Today's consumers are all looking for relevant, interesting, and informative content that answers their queries or satisfies their needs. Ultimately, you want to write content that is original and shareable, so that people can repost it, and it reaches more customers. Some ways to write high-quality content are:
Use short and long-tail keywords in your text.
Develop content that is engaging and share-worthy.
Choose the language that your customers are using to describe your products or services.
Make sure that others can link to your content, which means do not use login and copyrighted material.
Add relevant images and videos.
Optimize your conversion by adding CTA to offers and product pages.
The webpage content is a way for your company to communicate with search engines and customers. All other on-page SEO elements stem from high-quality content.
Title Tags
Title tags are HTML elements that give a webpage its name or title. They are an important SEO tool as they summarize to both the visitors and search engines what the webpage is all about. Some of the key points to keep in mind when developing a title tag are:
Keep it under 60 characters so that it is not cut out in search results and displays correctly.
Use focused keywords in the title tag and make sure that they are incorporated as naturally as possible.
Do not use caps in the title and make it relevant to the website.
Include your brand name in the title tag.
Each title tag should be unique and descriptive in nature so that it clearly communicates what the webpage is about.
Relevant Headings
Headings, also known as body tags, refer to titles that you give to your content. They are HTML element that organizes your content for readers and helps search engines distinguish what part of your content is relevant and important to the search intent. Headings should be in H1 format for best results and include descriptive words. In order to break up the content, the use of subheadings such as H2 to H6 is advised. One way to optimize your headings is to include keywords that differ from the ones in the title tag, but make sure not to overload your headings.
URL Structure
Your website's URL structure is an important on-page SEO factor as this helps search engines determine how relevant a webpage is with respect to the query. Some of the few things to keep in mind when creating the URL structure are:
Keep it simple to read and remove the extra and unnecessary words.
Include one or a maximum of two keywords.
If possible, try to incorporate HTTPS in them, as that is a positive ranking factor.
They should be descriptive of the webpage's subject.
A good example of a URL structure would be https://my-directory.spread.name/accessory instead of https://my-directory.spread.name/123456
Image Alt Text
Image Alt Text (alternative text) is an SEO factor for your images. It provides search engines with more information about an image and also describes it to website visitors who cannot see them. A few key points to remember when creating image alt text are:
Make them descriptive and specific in nature.
They should be relevant to the rest of the webpage content.
Keep them shorter than 125 characters.
Include a few keywords in them.
Google nowadays gives almost the same amount of image-based results as text-based results. That means visitors can discover your website through images too. In order to take advantage of this, you should include image alt text in your content.
Internal Links
Internal linking is the process of hyperlinking your own website's helpful pages. It is an important SEO factor, as these internal links send readers to other webpages on your domain and keep them engaged longer on your website. This in turn helps visitors find specific answers to their queries faster and tells Google that your website is valuable and helpful. The longer a person spends on your platform, the more time web search engines have to index your webpages and help you rank higher on SERPs.
Website speed
Website load speed is important, as it helps keep your bounce rate low (добавить ссылку на 10 ways to boost your website traffic), and search engines like Google put a lot of emphasis on user experience first and foremost. It has been seen that 47% of web surfers expect a website to load in 2 seconds, and 40% of them will leave after the 3rd second.
Internet search engines penalize slow-loading webpages with a lower ranking on SERPs. So it is important to ensure that your webpages load quickly, whether on mobile devices or desktops, as website speed holds a high rank when it comes to on-page SEO.
Responsive Design
In recent times, people use mobile devices more often to access the internet than desktops. Responsiveness is a design element that ensures your website displays properly on any device. It is an important SEO factor, as Google has started favoring business webpages that are optimized for faster loading and better display on mobile devices. So it is important to make your theme, design, website hosting service, and content layout in mobile-friendly manner.
Meta Descriptions
Meta descriptions are the short page explanations that appear under the title in search results. They are brief but vivid descriptions that expand on the title tags and summarize the content in a few lines. This tells the users why they should click and read your information instead of some other business webpage. Some ways to make a good meta description are:
Keep it under 160 characters.
Incorporate your entire keyword or keyword phrase.
Avoid using alphanumeric characters like &, +, or –.
Try to use compelling and relevant sentences.
Though meta descriptions are not an official ranking factor for search engines, they can influence whether your webpage is clicked on or not. Therefore, it is very important when applying on-page SEO.
3. Off-Page SEO checklist
Off-page SEO refers to the actions and steps taken outside of your website to affect the authority and trustworthiness of your business webpages. While most organizations and people focus all their efforts on on-page SEO optimization tactics, it is important to know: a balanced strategy that combines on-page and off-page SEO is what will increase your website ranking. So here are the essential elements of the off-page SEO checklist:
Establish Valuable Backlinks
A backlink is a URL or embedded link of your webpage or content in an external third party's website or online content. It is the backbone of an off-page SEO strategy, as it signals to search engines that a third party finds your content trustworthy and valuable, which in turn increases your ranking in SERPs.
One of the key elements to keep in mind when creating backlinks: quality is more important than quantity, though web search engines take into account both. A single quality backlink from an authoritative website is worth more than 10 low-quality backlinks. Search engines also penalize websites with irrelevant and fraudulent backlinks.
Include Local SEO
Adding your business to local area listings and internet directories such as Google My Business, Yelp, Yellow Pages, and others, is a great way to get more visibility on Google's local search results. It is important to make sure that the information listed is accurate, and that your business name, address, phone number, and website URL are consistent across all platforms. Also, it is essential to update your information on time. By adopting this off-page SEO strategy you can boost your ranking in your local SERPs.
Guest posts on third-party websites
Some third-party websites accept guest contributions and allow you to add URLs to your guest posts. This is an excellent way to secure valuable backlinks and attract new audiences to your webpages by publishing quality content on third-party websites. Another way to boost your credibility is to give positive and helpful contributions in the comments sections of websites that are of your market niche. Eventually, the users of these websites will notice your contributions and check out your business profile. This increased visibility can multiply your website traffic and ranking.
Post on forums and get involved in discussions
Forums and discussions on websites like Quora are excellent sources of referral traffic generation. You can participate in discussions and answer questions on forums, especially if you're an expert in your industry. One thing to keep in mind is that you should only post something when you have anything valuable to contribute that pertains to the query. A typical forum user is cynical about self-promotion, so it is advisable to focus on building a positive reputation for resolving questions.
Be active on social media
If you are promoting your content and business on social media, then you are already on the right path. By actively sharing your content on social media platforms, you tend to attract visitors from diverse sources. Some common steps to adopt in social media marketing are engaging with followers on platforms, encouraging third parties to mention your webpages, and responding to every mention of your product or business. These activities indicate to a search engine that your website domain is important and valuable to users and can help increase your ranking.
4. How to measure your SEO progress
SEO strategies are a great way to rank higher in search engine results. With consistent and high-quality SEO content, you ensure that there is a steady flow of customers to your business website. But this requires measuring the progress of your SEO strategies and adjusting them if necessary. So we have compiled a list of the key metrics to monitor that are essential to measuring SEO progress:
Search Engine Ranking
When you were designing your website, you would have done keyword research and used the most relevant ones in your content. Doing a simple Google search of those keywords and monitoring your ranking is a great way to measure your SEO progress. Taking note of where you stand for certain keywords can help you determine, if your SEO strategy is progressing or not.
Monitoring Website Traffic
Monitoring and knowing the different sources of your website traffic (добавить ссылку на 6 different website traffic you need to know about), lets you analyze where to focus your attention to drive your ranking. The most important of them is organic traffic. It is the number of visitors who have come to your business website by doing an online search. Google Analytics can help you segment the sources of your organic traffic and show, where your returning customers are coming from. This way you can focus your attention on those sources to boost traffic.
Click-through rate (CTR)
Click-through rate (CTR) is a performance metric that measures the ratio of clicks on your link to the total number of users who viewed the search results. In simple words, the higher your CTR, the higher will be your traffic. It is an important metric to understand SEO progress as a higher keyword ranking leads to the growth of your CTR. If your website is providing the information needed by the visitors, your CTR should increase consistently.
Bounce Rate
Bounce Rate measures the percentage of how many visitors bounced from your website without taking any action. A high bounce rate can mean that your website is not user-friendly and that you need to correlate your keywords to your content better. A typical bounce rate should be between 40-50%.
Average Session Duration
Average session duration is the metric that tells you how much time your customers are spending on your website. By monitoring this metric you will be able to assess the quality of your website and understand if you need to implement any changes. One way to grow this metric is to experiment with short and long forms of content and also use images and videos to make your content more engaging.
Conclusion
SEO is a very competitive business and is ever-changing, based on internet users' behavior. Optimizing your website requires you to have a solid strategy in place to combine and implement on- and off-page SEO practices. Even with the above-mentioned checklist, it can take around 6–8 months to see significant results. Building a high-ranking website that drives traffic demands patience, so get started right away, and do not forget to monitor your progress along the way.