Start an Online Boutique in 2023
The online business provided humanity with great convenience and luxury. Moreover, e-commerce also gives a chance to launch your online business and earn money without the turmoil of physical location. If you are thinking of starting your own online business, this guide will cover the steps you need to take to launch an online boutique.
6 Steps to Start an Online Boutique
1.   Choose a Niche
This is important for an online boutique because it tells what products you focus on. Therefore you have to select a niche carefully. A niche is a defined group of products with similar characteristics and appeals to consumers.
For example, many different types of women shop online, such as moms, retirees, women in their 20s and 30s, and more. Each of these groups has their own interests, values and needs, therefore will need a certain type of products.
You can select a niche by some simple methods. First, select the target country and check Google Trends. Then you can use online tools like Yahoo Keyword Tool and Google Trends to find keywords related to your niche.
After finding out the keywords, you should go through them to check their difficulty in ranking on Google. After analyzing these factors, you can decide on a niche that has the potential for earning money in the future. A specific niche may work better as usually, only a few people work on specific and targeted niches.
You can narrow down your market by focusing on fewer products than you would if you were selling everything under the sun. This approach will give you more control over what happens with your products and how customers see them.
It is also better to choose a niche that is not saturated. And the product that you offer should be unique. To succeed, you need to think of something new to attract people's attention and get them interested in buying your products. Try to offer your customers something that other competitors don't have.
2.   Set up your Legal Entity
Before you launch an online boutique, it is essential to determine your liabilities as an owner and how you are taxed. There are two main legal entities in the United States: C-corporations and LLCs. Both have their tax implications, but with C-corporations, there is a much higher risk of being audited by the IRS.
In addition to taxes, there are other issues that need to be addressed before establishing a venture, like setting up a website for your business or developing one on an e-commerce platform for selling products. And setting up an LLC can be relatively simple if you already have one for another business or personal project.
You need to register it with the state where you plan to conduct business and pay some fees to get started. However, there are several benefits of having an LLC versus being a sole proprietor, such as keeping profits separate from personal income tax requirements and avoiding income tax by operating as a pass-through entity (for example, through partnerships).
If you don't have a shop, consider hiring an attorney specializing in business law. This can save you money and time when you create a store online.
3.   Build a Business Plan
Building a business plan is a crucial step in growing a small business. It helps you understand what you need to do and how to do it to move forward with your business idea. A business plan can have different forms, regardless of the form, it should outline a course of action for starting and growing a company.
A business plan is all about business goals and the strategy you will use to achieve those goals. It also estimates the time, cost, and resources required.
The first step toward creating a good business plan is determining what kind of company you want to start. Then, you need to identify the specific type of product or service that you intend to sell.
The most crucial factor of the business plan is the strategy. It should include a detailed analysis of your market and competition and a sales forecast for each year. The techniques should also include details about how you will sell your products or services.
The second most important part of a business plan is the financial projections. These projections should be based on assumptions about how sales will grow over time and include details about costs such as advertising, equipment purchases, and employee salaries.
Finally, it would help to consider how long it will take to reach your goals and when you expect to make money from your venture. Try to set as more realistic goals as possible.
Once you plan, you need to define your target market, which will help determine the kind of product or service they need most. Then, create a budget for how much money it would cost to get set up and run and how much profit it would generate over time.
4.   Select the Best Supplier
Selecting the best supplier is essential in an online business because your leads will depend on them. Therefore, you have to take care in choosing the suppliers. Luckily, many companies can provide quality products at reasonable prices.
The first thing to do is to create a list of your needs.
Next, you will have to figure out what your product requirements are. This can be done by researching online or talking with a few suppliers with similar products in their portfolios.
After this, you should know your budget for buying the needed products. Then, you can create a spreadsheet with all the items and see how much each one costs.
After you have a basic idea of the budget, it's time to look for suppliers. It's better to find several suppliers so you can compare prices, quality of their products, etc.
There are many factors you need to look at before choosing a supplier, including:
How good is the quality of their products?
How trustworthy are they?
Do they have good customer service?
What experience do they have with your industry or product?
Do they offer financing options?
5.   Create an Online Store
To set up an online store, you can use an open source or hosted platform with all the essentials to run a store.
If you just starting out and don't want to spend much time developing a website and figuring out a complex CMS, you can consider using one of the modern no-code website builders. It will save you money and what's most important, using one of these tools you will be able to quickly create a website on your own even if you are not a professional developer.
For example, you can build a website based on Google Sheets using SpreadSimple, a no-code website builder. Your Google Sheet will also work as a content management system which means you can update your products in a few clicks just by editing the sheet.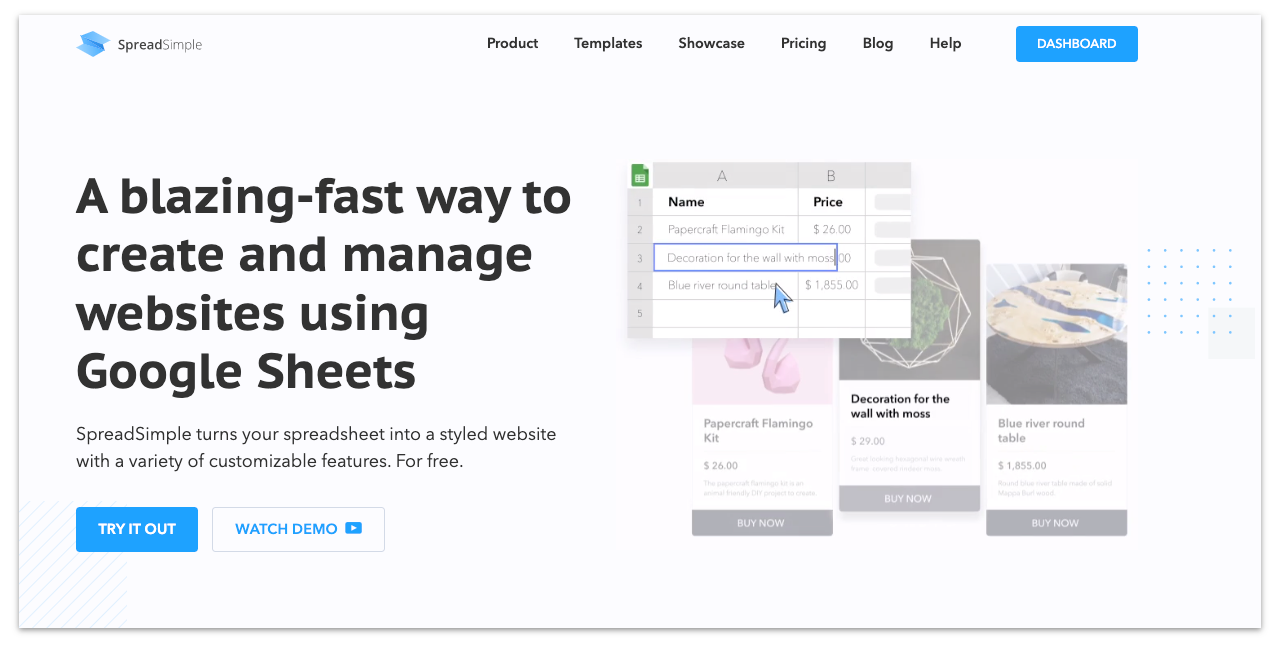 SpreadSimple also offers the following features necessary for e-commerce websites:
Shopping cart and flexible order form
Sorting, filtering and search
Product details pages
Promo codes
Multiple payment methods (Stripe, PayPal, Razorpay and others)
Additional pages (like "About us", etc)
Here are a few other important things that you need to do while creating an online store for your business.
Look at competitors and analyze their offers. Learn why they do better than others and try to get some ideas on how you can improve them and think of what you can offer to your customers that will make you stand out. Make sure that your website reflects your offer and all the advantages of your products.
Choose a convenient payment method. Keep in mind that withdrawing funds from your bank account may be a problem if there's fraud or other issues with the account holder. To avoid these problems, make sure to use a payment provider that has anti-fraud protection, like Stripe or PayPal. Also, having payment methods that are popular and well-known will positively affect your conversion rates.
Find a domain name. A great domain name should be unique, original and not very long. And it shouldn't have hyphens and numbers. This way it will be easy to pronounce and to remember.
6.   Market your Online Boutique
You need to use different methods of advertising your business to attract new customers to your online Boutique, for example, through social media networks like Facebook, Twitter, Instagram, or even blogs. You can also advertise on search engines such as Google Adwords or Bing Ads.
Another way is to use referral programs where customers get points for referring their friends to buy from your website. These points are converted into cash when they make an actual purchase from you.
Marketing your online boutique is not hard, but it does require some effort. The best method to start promoting your online boutique is to make pages on social media platforms and start posting content there. You can also try collaborating with micro-influencers so more people can learn about your store.
You can also advertise on your website, but if you spam people with ads, they'll end up blocking you from their newsfeeds and won't be able to view your products.
Another way to market your online boutique is by advertising it on the website of other popular e-commerce websites like Amazon. You can find out which stores are selling similar products to yours and contact them directly or use Google AdWords or Facebook Ads to advertise your store there.
Finally, it would help if you tried using search engine optimization (SEO) techniques like keyword research and creating an optimized content strategy so that people will find it easier when they search for something related to what they want.
---
These were the six basic steps that you need to follow to start an online boutique in 2022. Hope that you found this article helpful!
---